De week begon met een gedetailleerd blootleggen van Nederlandse corruptie bij de aanleg van Saoedische militaire vliegvelden met de omvang van € 330 miljoen. Een zaak die met de mantel der financiële schikking afgedekt werd.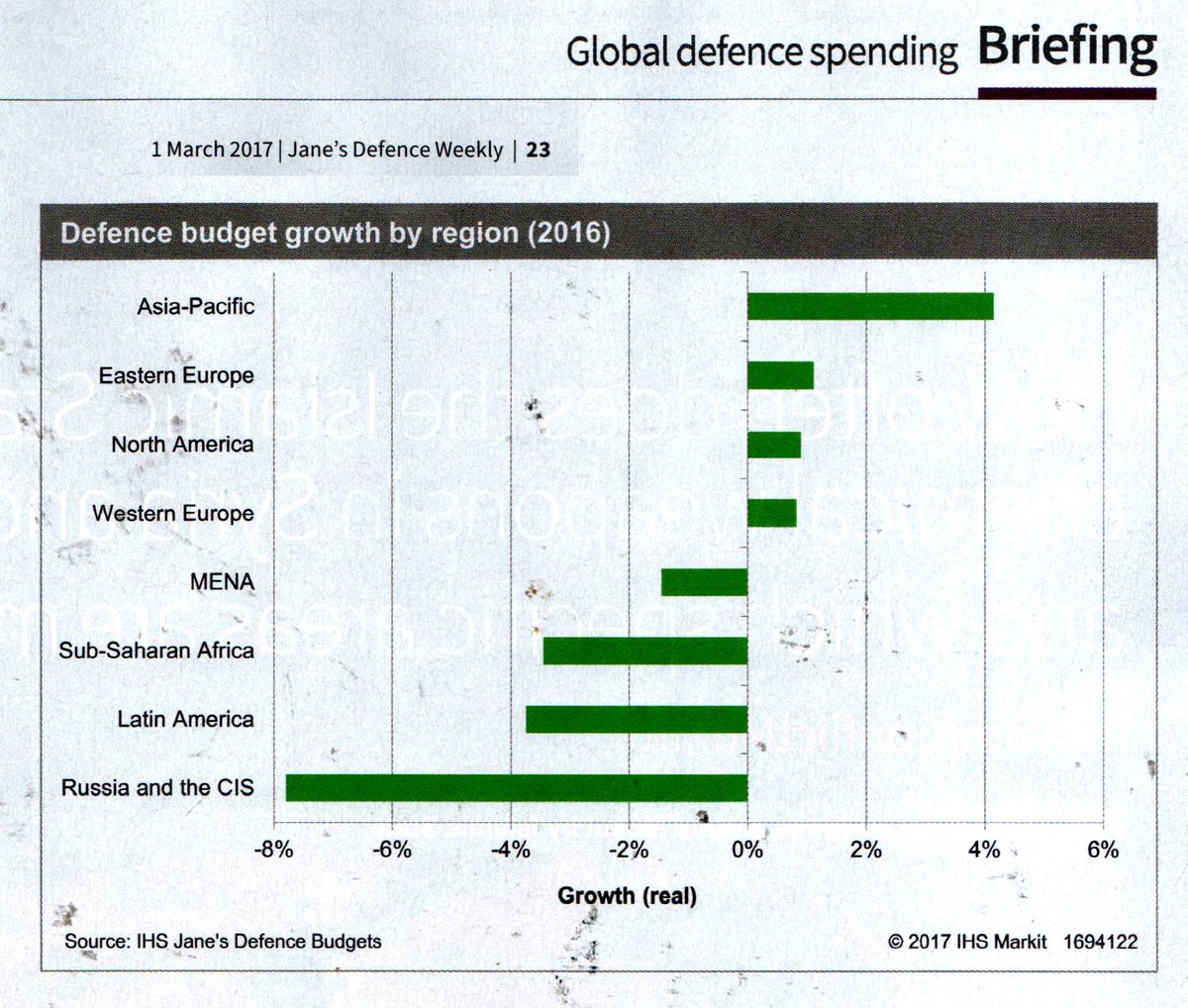 Nederland (zie ook 21)
1 – 270217: Retweet Andrew Feinstein: Dutch company pays huge bribe to Saudis. Gr8 investigative work by Dutch TV journos
2 - 020317: Dutch report: Six Dutch insurance companies invest in arms manufacturers selling arms to Saudi's.
http://bit.ly/2lRx6Sh
Europa
3- 020317: Defence budget growth or decline in 2016. See for yourself.
https://pbs.twimg.com/media/C56Pjo2XQAA3szQ.jpg
4 – 040317: #EU countries selling MILLIONS of pounds of arms to MENA - especially Saudi Arabia, but also Egypt, Israel, etc
http://bit.ly/2lv943w
Oekraïne
5 – 010317: The pot calling the kettle black. Russian diplomat warns US arms deliveries to #Ukraine may turn into new tragedies.
http://bit.ly/2n4SBzx
Overige landen
China
6 - 040317: #China enters new era of weaponry with increase in #arms #exports. Recent estimates may be exaggerated, but ... https://sputniknews.com/asia/201703031051240190-china-weapons-exports/
7 – 010317: Bigger #Pentagon #budget 'could challenge #China'. Chinese analists warn against overreacting.
http://bit.ly/2lv3LwP
via @SCMP_News
Egypte
8 – 270217: Looks useful for internal repression. #IDEX 2017: #Minerva in #Dubai #MSPV confirms large #Egyptian vehicle order.
http://bit.ly/2muRyfD
VS
9 – 040317: Why does the US continue to arm terrorists in Syria? via @thenation
http://bit.ly/2mv1R2Y
Midden-Oosten
(zie ook 4)
10 – 030317: "We are slowly but surely seeing a reshaping of the competitive dynamics in 1 of the most important export markets"
http://bit.ly/2lRGi9e
Sahel
11 – 040317: Retweet Nils Duquet, Some of these many uncontrolled weapons currently trafficked in Sahel might in near future also fuel black market in Europe #projectSAFTE
http://bit.ly/2mKThOd
wapens
Drones
12 – 270217: #Report: UK #Drone #Ops Against #ISIS: suggesting 1200 strikes without killing/injuring 1 #civilian is dangerous.
http://bit.ly/2lN8N7r
13 – 280217: China says it has received its largest foreign drone order: Xinhua
http://bit.ly/2n51VTT
via @Reuters
14 – 030317: Looks like Saudi just bought 300 armed UAVs from China - dwarfs UK or French numbers...
http://bit.ly/2mKQipe
F-35 (JSF)
15 – 270217: US Air Force anticipates #JSF #F35 deployment to Middle East in 'not too distant future'
http://bit.ly/2mVTZFs
16 – 010317: It took seven days for 10 US Marine Corps #JSF #F35 to fly from Yuma to their new home at Iwakuni, #Japan
http://bit.ly/2ma6w82
Why ...
Raketschild
17 – 010317: Belgian and Dutch participation in missile defence
http://www.stopwapenhandel.org/node/2022
Corruptie
Bulgarije
18 – 270217: #Bulgaria's former defense minister put on #trial amid #procurement irregularity allegations #corruption
http://bit.ly/2mKJurI
Israël
19 – 010317: #Israel to probe #German #submarine purchase #corruption
https://t.co/bdtm7n6QME
Roemenië
20 – 020317: #Damen irregularities. #Romania plans to bolster army after budget hike :: Balkan Insight #Corruption
http://bit.ly/2lRzhW5
Saoedi-Arabië
21 – 270217: Dutch TV on #corruption between Saudi Royal family/Duch Balast Nedam involving over € 500 m for militairy air fields.
http://bit.ly/2mKDHSW
Defensie-industrie
22 – 010317: #Thales earnings rise amid prospects of a European defense uptick
http://bit.ly/2mKTL7d
Investeren
23 – 040317: 'Ethical investment' the bible belt way: no gay related investement, but oil and arms are fine.
https://sg.finance.yahoo.com/news/invest-bible-fund-backs-arms-122318275.html
… via @YahooSG
Activisme en Onderzoek
24 – 010317: Walk through Brussels March 26 14-16h to hear about arms industry lobby.
http://bit.ly/2n4Laby
25 – 030317: Belgium debate on arms trade was sold out, but now to watch @Vredesactie @andrewfeinstein @smhwpf @deBuren #*MO
http://bit.ly/2mabK3G